You know how people like to remind us to enjoy the "little things" in life?

I'm one of those people who can find simple joy in the littlest things. Simple, silly things.

Sunshine through the windows. Birds on the bird feeder. A great Thrifted find..
Seasonal Decorating.
For some reason.. decorating for fall (and especially for Christmas!) makes me happy. I think it's the fun of getting the "fall" box out of the attic and welcoming the pumpkins, assorted gourds and pinecones out of storage and onto the shelves.
And bringing out the Nutcrackers the day after Thanksgiving? Can't wait.
A few years ago I got a cheap bag of little pumpkins (probably a few days after Halloween when crafty places are having their 70% sales). I love bringing down that bag of little pumpkins and finding spots for them around the shelves and window sills.
The plant in the mug above is still alive and well after my
Vintage Mug Planter Project
last year!
I love having our new record player on top of the fireplace as the centerpiece in the living room now. Also residing in the living room is my Meyer Lemon Tree who has officially taken up residence inside for the fall and winter.
As you can see above, we've got two little Meyer Lemons growing slowly but surely.
Fall just suits the house so well because of my favorite interior color palette.. burnt oranges, deep reds and burgundies, warm browns.. I just love them.
The built-in shelf in the dining room is one my favorite details in the house. From the scalloped edge around the top and the black and white tile on top, I just love it. It's the perfect spot for some of my favorite dishes, books, teapots and of course, pumpkins.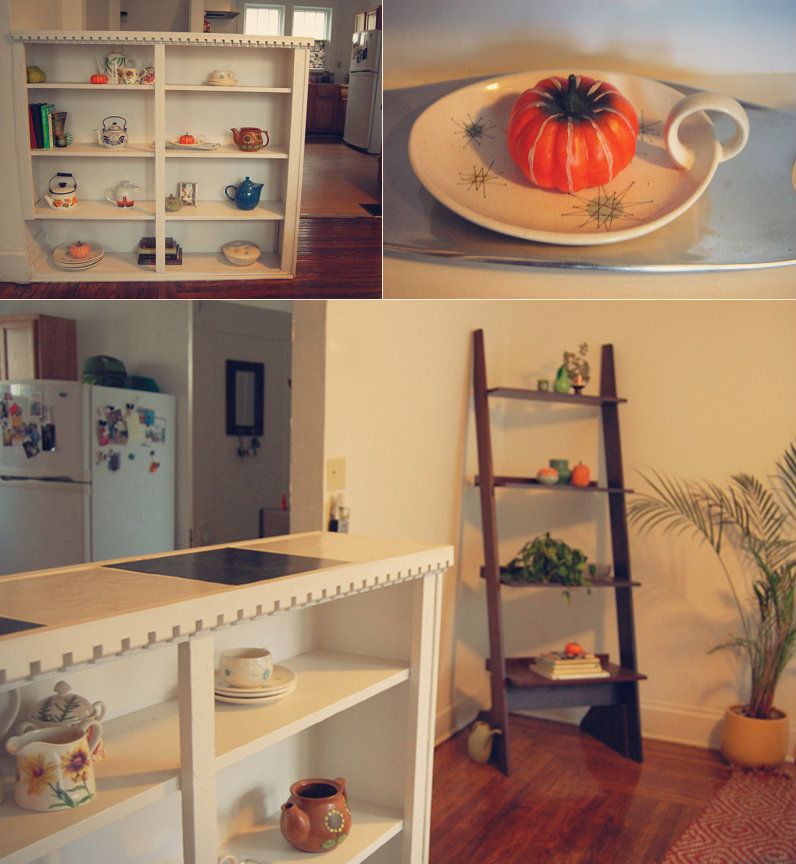 I guess I'll take the Halloween specific items down..
but the pumpkins are staying.